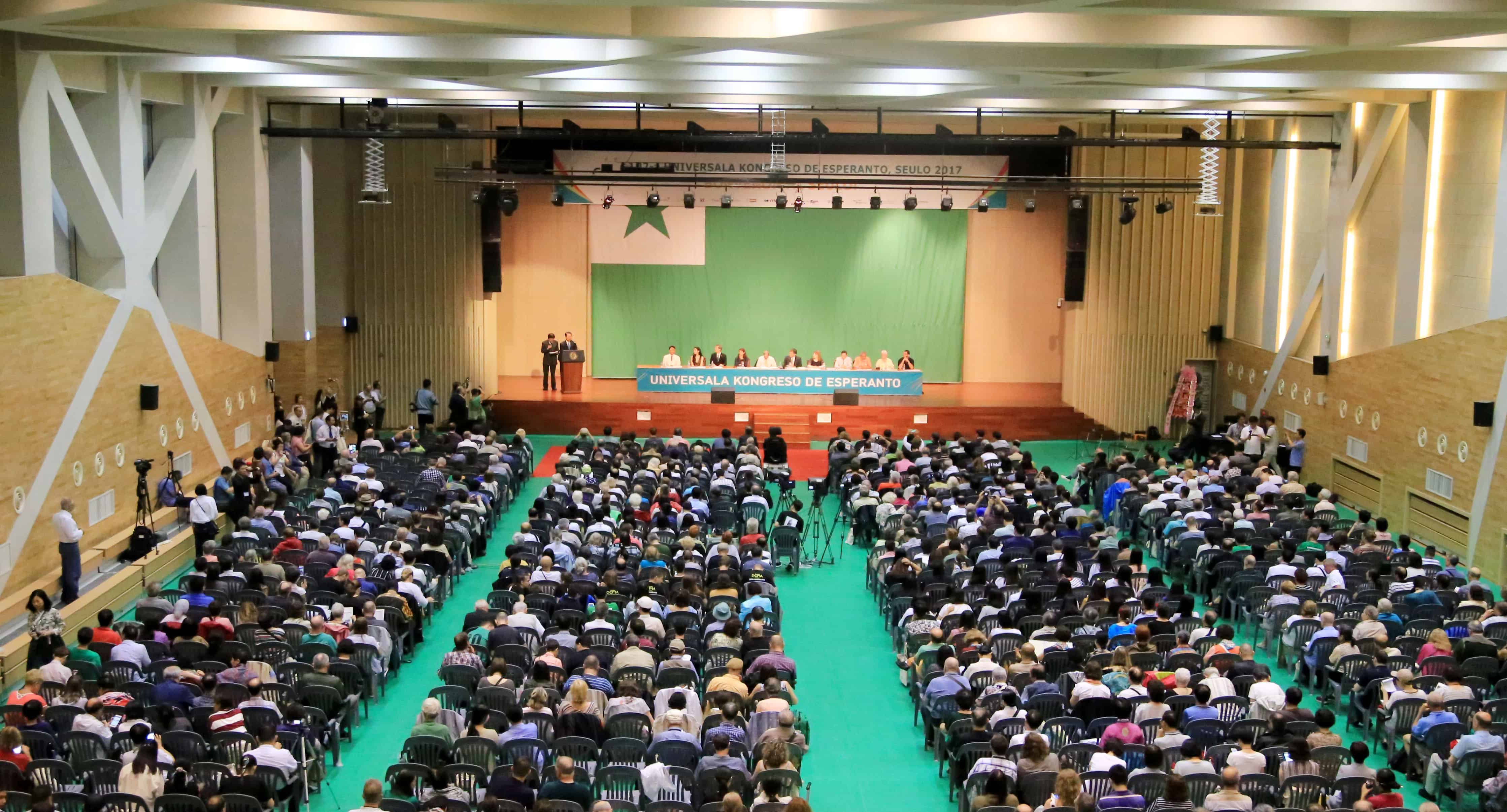 Esperanto opens the door
Laimius Stražnickas
Bonan tagon, amiko [Hello, friend]. Are you going on the boating trip?"
This question to young Lithuanian Esperantists is like the herald of spring.
In early May, the trip is all you hear about, along with telephone calls from Esperantists from neighboring countries to ask about the weather in Lithuania.
Everybody takes it for granted that the traditional boating trip in the Aukštaitija National Park will take place. Even the program is always the same, with boating during the day and entertainment at night.
Around a hundred Esperantists spend three days on the lakes, rivers and streams, visiting museums and other places of interest. Birthday celebrations for those born in May, and the initiation ceremony for new members, take place every year.
The tradition is handed down from generation to generation. This year, the lakes of Ignalina echoed with Esperanto for the 39th time.
People who do not speak the language are amazed to see how easily Esperantists get on at their first meeting. They seem to feel a spiritual kinship, a mutual helpfulness and a warmth that would otherwise be rare between strangers.
"This is why we learn Esperanto," says Povilas Jegorovas, the head of the Lithuanian Esperanto Association, who learned the language when he was 15. "We can get to know about other countries and their people, unhindered by communication barriers, and also to share professional experience."
A lawyer, and 50 this year, he is one of the most active and best-known Esperantists in Lithuania, leading the roughly 3,000 speakers of the language.
Even in the gloomy Soviet era, Jegorovas traveled the world to participate in Esperanto congresses, held by the Universal Esperanto Association in a different country each year. After coming back from events in Bulgaria, Switzerland, Belgium, Hungary, Poland, the Netherlands or Great Britain, he would share his impressions, attracting crowds of Lithuanian Esperantists hungry to hear about his overseas experience.
This year, the 90th World Esperanto Congress will be held in Vilnius. Roughly 3,000 members, from almost 70 countries, are expected to arrive in Vilnius in the last week of July. It will be the biggest ever international event to be held in Lithuania, both in terms of participants and countries represented. It will also be the longest one: the week of the congress will broaden out into three weeks of related events.
"Vilnius was selected to host the forum mainly because of the country's seminal ties with the movement," says Jegorovas.
"The roots of the international Esperanto language are in Lithuania, as its creator, Ludwig Zamenhof, lived here for a while and completed the first Esperanto textbook here. He is one of the most famous Litvaks."
Jegorovas has succeeded in bringing the largest world Esperantist event to Lithuania in this jubilee year. The theme is "World Esperanto Congresses: A Hundred Years of International and Intercultural Cooperation".
The first congress was held a hundred years ago, in 1905, in the French town of Boulogne-sur-Mer. It was attended by Zamenhof himself, who gave a solemn opening speech, which received a thunderous ovation.
The participants were overjoyed because they could understand perfectly what the "father" of Esperanto was saying. For Zamenhof, it was one of the most exciting moments of his life, as well as proof that Esperanto can be used and understood by all nations.
There is no exact data on how many people today know and use Esperanto, but the number is thought to be between half a million and three million people across roughly 100 countries.
"In fact, there are five or six thousand languages spoken around the globe," says Osmo Buller, general director of the Universal Esperanto Association. "Esperanto is among the first hundred. That is to say, it is a widely spoken language."
Navigate here to get more Lithuania Current News.
Lithuanians can take pride in the language created by the ophthalmologist Ludwig Zamenhof (1859–1917). The creator of the basis of the language lived and worked in southern Lithuania, in the town of Veisiejai. Here he completed the first textbook. His wife, Klara Zilbernik, was born in Kaunas. Her old home on Zamenhofo gatvė now houses the Lithuanian Esperanto Association.
The language is 100 years old. Its creator was brought up in Bialystok (currently Poland, then part of the Russian Empire) in a teacher's family. The area had a mixture of Poles, Jews, Russians, Belarusians, Germans and Lithuanians. Russian tsarist policy fuelled hostility between them.
The child reasoned that people get angry with each other when they cannot understand the languages that others speak, and have no time to learn them.
Since childhood, he had liked to invent secret languages, and while at school he learned Latin, Greek and French, in addition to what he picked up around him. Then he had the idea of a common language. Only later did he decide that it should be a made-up language, with an easy grammar and a clear structure.
When he left for Moscow to study medicine, his father burned all his notes, as he did not want anything to distract his son from his medical studies. Zamenhof did not give in. He rewrote the framework of his invented language, and in 1887 published the first textbook, entitled Lingvo internacia. Antauparolo kaj plena lernolibro, under the pseudonym Dr Esperanto (The Hopeful Doctor).
Soon he received his first letters in the language. Readers of Lingvo internacia liked it and called it Esperanto, although the author referred to it as internacia lingvo, the international language.
It was not a new idea to create an international language, without replacing any national ones, but as an instrument for all people to communicate in. Zamenhof understood that a language of this kind could only evolve by being used collectively. Therefore, he limited his initial idea to a minimal grammatical base and a limited stock of words.
Then other people joined in, who made using it a serious occupation. They used it for communication, and as a means for literary creation. Esperanto became a living language, a mother tongue to some individuals. It is the most widespread and easiest to learn artificial language.
The Lithuanian Esperanto Association was founded in Kaunas in 1918.
Expanding horizons
"For the happiness of the people, the Lord has given us, through the genius of Doctor Zamenhof, the perfect, easy, international language of Esperanto," wrote the anthropologist, traveller, writer, librarian, translator, rescuer of Jews, and Siberian exile Antanas Poška (1903–-1992, right). "Anybody can learn it, in several weeks or months."
He recommended the creation of Zamenhof to young people seeking light and knowledge as the best way to fulfil their dreams.
Poška is also known as a person whose life was shaped by the movement for the international Esperanto language, the language of friendship between different national languages, and people of different cultures and religions.
At the age of only ten, he was already dipping into a copy of Lingvo internacia which had come his way. In the summers, he tended sheep and learned vocabulary.
It turned out well. When the First World War broke out, a German gendarme noticed an Esperanto textbook in his hands and spoke to him in the language. How thrilled he was to understand a foreigner!
"This congress overwhelmed me," Poška wrote about his first Esperanto forum in Nuremberg in 1923. "I committed myself to the idea of the international language for the rest of my life."
The 20-year-old was fascinated by his ability to communicate with people from different countries without an interpreter. Of a restless nature, he had already done a lot for the Lithuanian Esperanto movement, when he felt an irresistible urge to travel, to see what there is "on the other side of the horizon".
He used to say: "Knowing the world is the goal of our life."
In 1928, while employed as the head of the Esperanto section on Kaunas Radio, he was offered the chance to visit the Scandinavian countries. He bought a motorbike and drove to Riga, Tallinn, Helsinki, Uppsala and Copenhagen, and travelled to Germany and Belgium giving lectures on Lithuania and Esperanto.
A letter from an Esperantist from Uppsala encouraged Poška to undertake his biggest trip, to India. The young man wondered whether the Lithuanian and Hindi languages were related. When he learned that nobody had yet investigated the relationship between them, he undertook to do it himself.
The Universal Esperanto Association advised Poška to visit more countries on his way to India, and to give lectures on Esperanto and his country. He set out on a long and interesting journey by motorbike across Europe, Egypt, Palestine, Iraq and Iran, until he arrived in India.
Everywhere he went he made friends. In Iran he caught malaria. Esperantists from Teheran saved his life. When he recovered, he gave courses in Esperanto in eight towns in Iran and gave lectures.
Poška stayed in India for eight years. He taught Esperanto, worked as a Red Cross administrator, studied at the University of Bombay, and even visited Baltistan in the Himalayas. Much later, he recorded his impressions in several books. In a tribute to Esperanto, he wrote the 500-page We are all Brothers in the language.
On returning to Lithuania, he led the country's Esperantists. But with the 1944 Soviet occupation, he was deported to Siberia, and was allowed to come back only 12 years later.
Exile did not dent his youthful spirit. He retained his passion for life and his thirst to learn more. In his late sixties he motorcycled to the Caucasus.
The language of hearts
"When our daughter Viltė was born, I made the decision to speak to her only in Lithuanian. My husband spoke in Esperanto, and she picked up Hungarian herself," says Rožė Aukštikalnytė, who has been living in Hungary for 20 years.
The 16-year-old girl, born into a Lithuanian-Hungarian family, is fluent in both Lithuanian and Hungarian. As she has spoken Esperanto to her father since she started talking, she can justly call it her native tongue. She is coming with her parents to the Vilnius congress this summer, and will participate in the annual children's congress.
There are several thousand children who, like Viltė, have heard since birth the language created by Zamenhof.
Rožė says she never dreamed of marrying a foreigner. Like most Esperantists in the Soviet era, she learned Esperanto in order to be able to communicate with the world.
At that time correspondence with Western countries was heavily restricted. But it was possible to have friends in the Soviet bloc and to visit them.
"A friend of mine visited Hungary and described it so vividly that I felt the urge to go there myself. Finding accommodation for Esperantists is very easy. The book Pasporta servo lists addresses of people who will put you up.
"I selected an address, and wrote to a young man called Csaba. I would never have imagined that the Hungarian in the book would become my husband."
Lithuanians who met and married through Esperanto live in Poland, the Czech Republic, Norway, Switzerland, France, Ireland and Lithuania.
At the 1996 World Esperanto Congress in Prague, a Lithuanian music teacher called Vida met Taesoku, a Korean journalist. Five years later she became his wife. The couple, who use Esperanto to speak to each other, opted to live in Vilnius.
Their four-year-old daughter Jogailė speaks several languages. Her father speaks Korean to her, her mother and her elder sister Lithuanian. As the couple use Esperanto to communicate, the little girl can understand it.
The key to oriental medicine
"People who understand Esperanto get a ten per cent discount in my clinic," says Alfredas Maruška, a neurologist and the owner of a private clinic in Vilnius.
"Those who can speak it, get twenty per cent for acupuncture, manual therapy and leech therapy treatment."
Before becoming an Espe-rantist, he was aware of numerous professional organisations for Esperantists. When he heard the news in 1988 that the Chinese Science Academy and the International Society of Scientists and Technicians were organising in Beijing the first course on acupuncture in Esperanto, he rushed to learn the language.
It proved to be incredibly easy. The roots of the words are borrowed from other languages, and international words are common. The simple and logical grammar has no exceptions. The creative system of word formation reduces the amount of new words that have to be learned and provides the user with the tools to coin new words.
"I was surprised that it was quicker to learn the language than to get a Chinese visa," laughs Maruška.
In Beijing he celebrated his 33rd birthday among like-minded people. Now the 50-year-old doctor admits that in China it was a shock to see 5,000 participants communicate without interpreters.
"The experience introduced many changes to my life and my professional activity."
As a member of the World Esperantists Medics Association, in 1991, Maruška organised a conference in Kaunas. He is also involved in putting together a visually impaired Esperantists' congress, to be held in Vilnius in the summer.
Knowing Esperanto-speaking specialists in Oriental medicine has helped him to discover more secrets of this treatment.
"My greatest respect is for Masayuki Saionji, the originator of Jumeiho manual therapy. I repeat his name every day when I am working with my patients. His method has spread thanks to the language. Applying it brought about a personal change in me."
Now Maruška is looking forward to meeting Professor Puramo Chong, from Korea, who is arriving to give a seminar on Sa Am acupuncture.
Fluent in Esperanto, the doctor says that life without it would be less interesting.
"Esperanto provides an international context in which to see your own country, yourself and your environment. It is a perspective that does not reflect the size of the country or its prosperity, and its authority arising from these.
"I have been able to see with my own eyes how people live on the banks of the Yangtze in China, in the countryside near Belovezh Forest in Poland, and in an attic in Montmartre in Paris. I have seen an eye therapist's clinic in Belgium, and worked hand in hand with Polish, Chinese and Japanese doctors.
"I have worked in the countryside in Hungary, and in Bialystok, where Zamenhof was born. None of this would have happened without Esperanto."
One world, one language
Arūnas, a 22-year-old student, is on an Esperanto course in Vilnius. Such courses are held in all the larger towns in Lithuania where there are active Esperantists.
"Last summer I was wandering across Europe alone," he says. "After two weeks I met two Lithuanian girls in France, who, like me, were visiting different countries. We decided to go to Spain together.
"We were so busy talking that we missed the stop where we had to get off the train. We found ourselves in a town on the coast. It was late, and the next train was only due the next morning.
"I thought we would have to sleep rough. But one of the girls took out a book from her backpack with a telephone number in it. When they called it, they did not speak French. Only later did I find out that they had called a local Esperantist.
"A dark-haired chap called Michel turned up in a car, and took us to his spacious house. In the evening we drank wine and talked. Rather, the girls and he spoke, and I listened.
"They spoke Esperanto. When I came back, I started looking for somewhere where I could learn it. So I found this course."
His fellow students are people of various ages, though young learners predominate. In the summer Arūnas is planning to travel to Scandinavia with his girlfriend Ilona. They are both on the course.
They will probably make use of the book Pasporta servo, in which Esperantists from 70 countries publish their addresses and put up their counterparts from other countries, because Esperanto is a bridge that connects all cultures and belongs to all people.